Palo Alto University Transfer Book
Primary audience: undergraduate students seeking a bachelor's degree in psychology
My role: Plan, edit, oversee graphic design and printing, and produce an undergraduate viewbook from inception to delivery in just one month.
:: view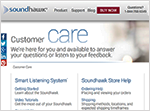 Soundhawk Customer Care Knowledge Base
Primary audience: new customers in new product category, elderly
My role: Plan write, launch, and manage knowledge base for customer self-service using Zendesk Help Center. Prepare training manuals for customer care agents. Handle customer email.
:: Go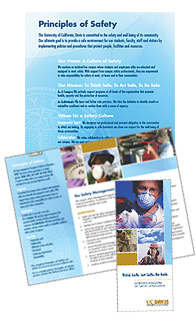 Safety communications for UC Davis Safety Services Division
Primary audience: UC Davis employees
Secondary audiences: campus leadership, student
My role: In consultation with Safety Services directors and managers, wrote communication plan, developed tagline and key messages, edited and polished Principles of Safety document, writer and production manager for major campaign collateral, contact for communication services vendor.
:: Principles of Safety
:: Safety brochure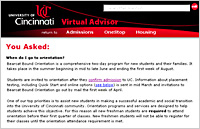 Virtual Advisor, natural language FAQ, University of Cincinnati Office of Admissions and One Stop Student Service Center
Primary audiences: current and prospective students
Secondary audiences: parents, high school counselors, employees
My role: project lead for development and launch, copywriter for all admissions text, trainer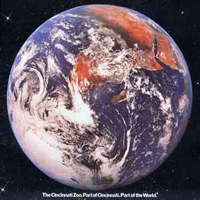 "Cincinnati Zoo. Part of Cincinnati. Part of the World." Annual report for the Cincinnati Zoo and Botanical Garden
Did this one a while ago, but it stands the test of time. ~BB
Primary audience: zoological society members
Secondary audiences: donors, board members, civic leaders, professional peers, journalists
My role: copywriter, project manager
read excerpt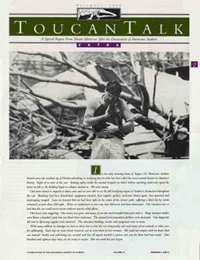 Toucan Talk Extra, Hurricane Andrew memorial edition of the Zoological Society of Florida newsletter.
Another golden olden, but it still moves me to think of the courageous zoo people who brought Miami Metrozoo back from disaster that year and how privileged I was to work on this project.
Primary audience: zoo members, anxious to hear the fate of their zoo and its animals
Secondary audiences: donors, board members, civic leaders, professional colleagues
My role: concept developer, interviewer, writer, project manager
:: read excerpt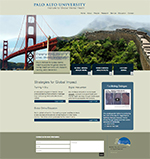 Institute for Global Mental Health at Palo Alto University
Primary audience: university faculty as swell as national and international colleagues
My role: Develop website using Wix content management system.
:: Go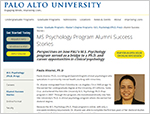 Palo Alto University Master's Programs
Primary audience: prospective students seeking a Master's degree in psychology
My role: Edit existing text and create new text that is persuasive for target audiences and also optimizes site content for search engines. Develop techniques for improving visual appeal of pages within a mostly text-driven web content management system. Optimize site and pages for SEO.
:: Go
UC  Davis Campus Care Index
Primary audience: internal customers in need of facility-related services
My role: Bridge departmental boundaries to create a single website for customers of facility repair, renovation, construction and custodial services. Save customers from having to go to at least 7 different websites for the same (yet often conflicting) information.
:: Go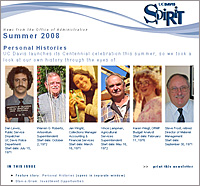 "Spirit" newsletter
University of California, Davis, Office of Administration
Primary audience: administrative employees
Secondary audience: campus leadership, retirees, employees in other administrative divisions
My role: designer, executive editor, writer, photographer, programmer. Converted from print to email/web-based newsletter using measurable email delivery. Achieved up to 43% click-thru rate.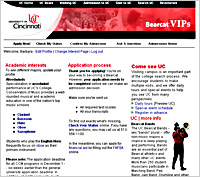 Hypertext in the variable data environment -- personalized Web pages for University of Cincinnati Office of Admissions
Primary audience: high school students
Secondary audience: parents of same
My role:content developer/manager, database manager, copywriter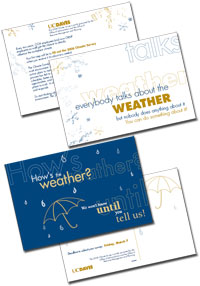 Employee climate survey promotions, UC Davis Office of Administration
Primary audience: administrative employees
My role: Develop series of letters, emails and postcards to encourage participation in biannual employee survey. The result was a 93% participation rate overall among approximately 1400 employees.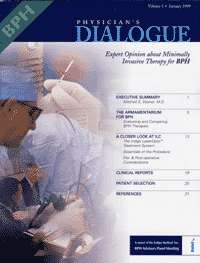 Physicians Dialogue,
Indigo, Inc. a subsidiary of Ethicon Endo-Surgery, Inc.
Primary audience: urologists
My role: concept developer, writer/editor
The challenge on this project was to transform the proceedings of a two-day meeting of urologists / consultants into credible commercial literature comparing minimally-invasive treatment options for benign prostatic hyperplasia (BPH / enlarged prostate). Approaching this as a conversation among experts enabled us to present a variety of opinions and to position the client's product in as a promising approach among a spectrum of viable techniques.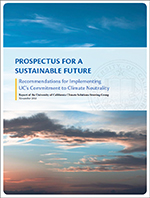 University of California Climate Report
Primary audience: campus leaders, UC internal and external stakeholders, and policymakers
My role: Edit complex academic/technical report into a style and format suitable for a general audience
:: view
UC Davis Smoke and Tobacco Free Campus
Primary audience: all campus workers, residents and visitors
My role: Introduce policy prohibiting all tobacco use on campus. Leverage institutional communication vehicles to embed non-smoking messaging in existing communications. Create new website.
 :: Go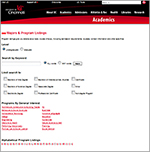 Program outlines for University of Cincinnati
Primary audience: undergraduate students, high school students
Secondary audience: parents,
My role: Develop plan for converting static (print/pdf) information system to searchable, data-driven system. Write and edit text, supervise programmer and content managers, test system.
:: Go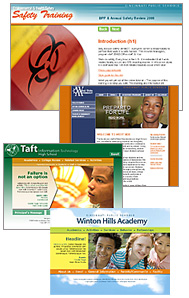 Web sites for the Cincinnati Public Schools
Primary audience: for school sites: parents, students, prospective students
Secondary audience: teachers, prospective employees, district and municipal leadership
My role: Develop web templates in Dreamweaver that school webmasters and other staff, who have little to no web programming experience, can install and maintain.
Except as noted, all sites are my development sites. All text was provided by the client.
:: West Side
:: Taft STEM
:: Winton Hills
:: Mt. Airy
:: Taft IT
:: Safety Training (developed for the CPS Environmental Health & Safety unit)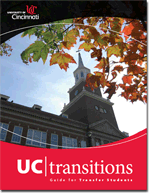 Transfer student guide, University of Cincinnati Transfer and Lifelong Learning Center
Primary audience: traditional age transfer students
Secondary audiences: non-traditional transfer students, adult learners
My role: Concept developer, project manager, copywriter
: : view pdf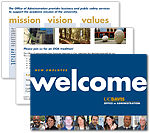 New employee welcome invitation, UC Davis Office of Administration
Audience: Employees new to the Office of Administration
My role: Develop a new employee welcome invitation that motivates attendance while reinforcing the campus identity and the mission, vision and values of the Office of Administration. Adapt design, created by campus Repro Graphic service as PowerPoint and other related materials.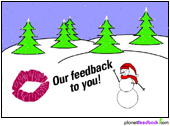 Holiday greeting, PlanetFeedback.com
Primary audiences: subscribers to online consumer feedback web site
My role: writer
:: read greeting