Excerpt from Cincinnati Zoo. Part of Cincinnati. Part of the World.
Cincinnati Zoo and Botanical Garden 1988 Annual Report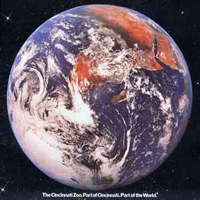 Why? The Cincinnati Zoo exists to serve Cincinnati, Hamilton County and the Tri-State as an education, recreation and wildlife research facility. We are proud to be a contributor to the cultural, economic and intellectual life of our hometown. As success follows success in exhibition, attendance, breeding, horticulture, and learning, we offer further proof to our community that we do what a zoo does best and we do it as well as any zoo.

But the zoo has a growing responsibility to guide and direct awareness of the global picture: the picture of an Earth where wildlife is rapidly being swept away in the wake of human development. The picture of a world in which exotic animal genetic material is stored in the sterile confines of a "Frozen Zoo." A world of skeletal remains where living creatures used to be.

Even though all the zoos in the western hemisphere could fit into Hamilton County, Ohio, zoos can be powerful players in global conservation. But only if the power of visitor awareness can be harnessed into an active force for the protection of wildlife. One point three million Cincinnati Zoo visitors each year could be a force to be reckoned with. Education turns each exhibit into a window through which the global viewpoint can be experienced. Your perspective could be transformed.

This report is about that transformation. Here, seven of our employees have drawn a connection between seven zoo events and the world of which they are a part. It is hoped that you will be able to envision, in the same light, the other events, births, hatchings and acquisitions listed in the back of this book. May your future zoo visits, too, be enriched by what you read here. The Cincinnati Zoo.