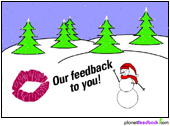 Holiday Greeting
PlanetFeedback.com

Primary audiences:
subscribers to online consumer feedback web site

Twas the week before Christmas and we were out malling.
The crowds were enormous, the service appalling.
You'd think for our money that retailers would care.
But they pooh-pooh our questions. Complain? Do we dare?

And then there's the problem of traveler's woe.
The baggage gets lost and the schedules are slow.
If, all things considered, we're sorry we flew,
Is put up and shut up the best we can do?

When utterly weary of airport congestion,
Or fast food that gives you acute indigestion;
Or when you're impressed by a clerk in the know,
Or an on-time arrival where you wanted to go,

There's one place to take your complaints and suggestions,
Your compliments, kudos and even your questions,
A neat little website designed with aplomb:
dub-dub-dub-dot PlanetFeedback dot com.

Your letters composed with our Letter Utility,
Are effective enough to reduce the futility,
That often occurs when consumers complain.
We help get responses with minimal pain.

We trump all "complaint" sites and do them one better,
Letting users opt in to create a Shared Letter.
And aggregate customer lovings and hatings,
Are all factored into our Company Ratings.

In sum, we're a Web site that gives you a choice
To pool your opinion in one common voice,
To say to big business and small ones as well,
"If you don't do right by us, we're gonna tell!"

This holiday season, we say from the heart,
Many thanks for your help giving us a great start.
May the year that's to come bring you joy and good humor.

All the best,
PlanetFeedback
Viva consumer!